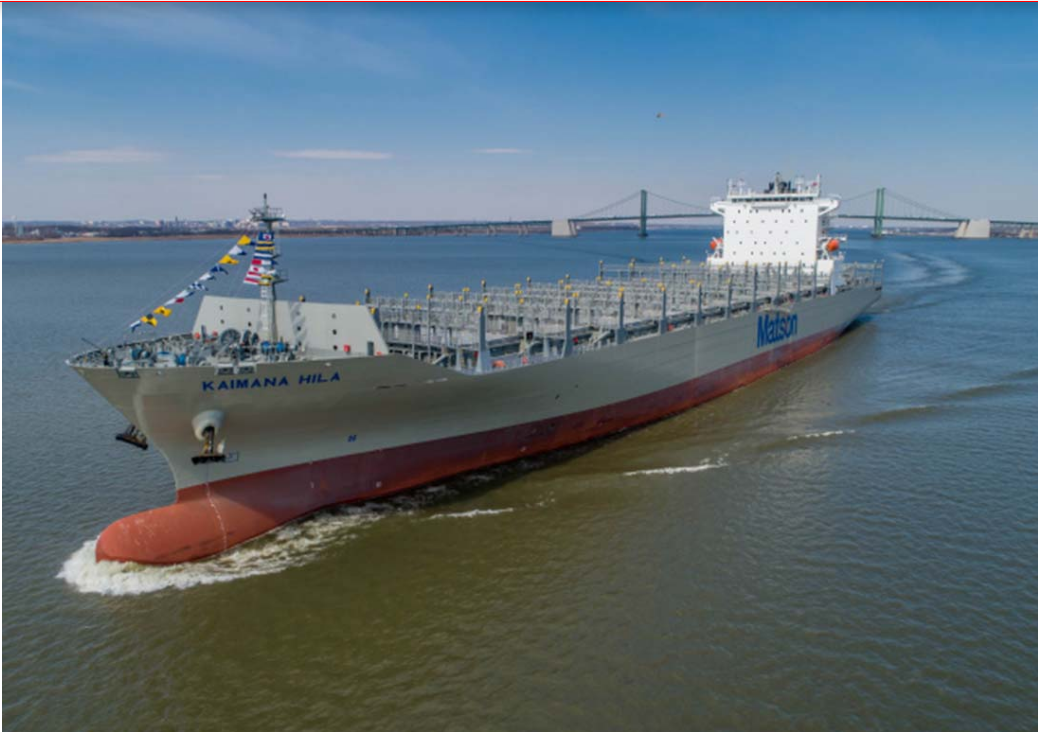 U.S.-based shipping line Matson (NYSE: MATX) will convert the main engine on its container ship, the Kaimana Hila, to a dual-fuel ME-GI engine capable of running on liquefied natural gas (LNG), MAN Energy Solutions has confirmed.
MORE NEWS : Forwarders locked into "sky high" rates
This follows an option contained in a contract signed with MAN in June 2022 to perform an identical conversion on a sister ship, the Daniel K. Inouye. The retrofit of the Kaimana Hila, an 'Aloha' class 3,600 TEU Jones Act-compliant vessel built in 2019, will be performed by MAN PrimeServ, MAN Energy Solutions' after-sales division. The Kaimana Hila is currently fitted with a MAN B&W S90ME-C10.5 engine.
The retrofit is a part of a growing trend among ship owners to choose dual-fuel retrofits for their existing vessels in service to achieve fleet-transformation goals while simultaneously gaining benefits in terms of upcoming regulations such as Carbon Intensity Indicator (CII) and Energy Efficiency Existing Ship Index (EEXI). Retrofitting a MAN B&W engine to dual-fuel running is straightforward, as the company's standard, electronically-controlled diesel engines are constructed as 'dual-fuel ready' and are therefore readily retrofittable, offering a viable pathway to shipowners who wish to achieve a net-zero carbon footprint by 2050.
MORE NEWS : MSC Partners with Valencia to Expand Med's Busiest Container Port
Matson's Senior Vice President, Vessel Operations & Engineering, Capt. Jack Sullivan, said, "This will be the third vessel Matson is retrofitting with dual-fuel LNG capability. Each retrofit is a meaningful step toward achieving our corporate sustainability goals to achieve a 40% reduction in Scope 1 greenhouse gas fleet emissions by 2030 and net-zero Scope 1 GHG emissions by 2050."
The option to take-up the retrofit comes on the heels of Matson's recent announcement of the construction of three LNG-powered newbuilds that will also be driven by ME-GI engines. Since the first two-stroke ME-GI (LNG) retrofit in 2015, MAN Energy Solutions has built an impressive list of references and expanded its portfolio of dual-fuel retrofits to also include fuels like LPG and methanol.
Source : https://gcaptain.com
---
TAGS : Cargo Bali Shipping Line Shipping Type Shipping Notice Shipping Companies News Cargo Cargo News Om Bali Cargo Shipping Cargo Bali Cargo Shipping Bali Cargo Container Freight Forwaders Logistics Export Import Freight Forwarding Cargo Service Ware Houseing Local Forwarding Distribution Bali Cargo International Cargo Air Cargo Packing International Shipping World Wide Shipping